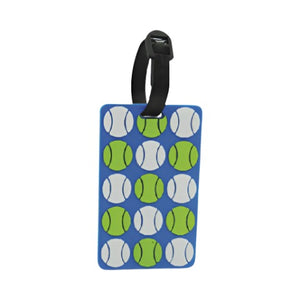 Are you always traveling and you fear that one day you'll take your luggage from the ever-busy baggage area, only to find out that it's not yours! We've got just the thing for you! 
Our Tennis Bag Tag takes away any anxiety you have and stops your stressing over losing your luggage one day while having a unique design that's especially for tennis players like you.
Why It's Best To Get One?
Have an easy-to-spot reminder

 that the luggage you're bringing with you is yours with a personalized tag made to take anxieties away, with just one look.

Made for maximum durability!

 Composed of highly durable silicone material that's impossible to break making sure they stay with your belongings wherever you go.

Stand Out From The Crowd.

 

With unique designs to choose from you'll never have a hard time finding your luggage, not to mention, it has a backside so you can write details like your name and telephone number. 

Made to take all your worries away,

 designed to fit tightly on your luggage, with one look you'll be able to tell that it's yours! 

A perfect gift to share

 with your teammates, friends, and family that loves tennis! 
Order today and say goodbye to that lingering fear of losing your belongings by securing them with a unique tennis-themed tag! 
Though there's a HUGE downside in buying this product…
You'll get tired of everyone asking you where you bought it!