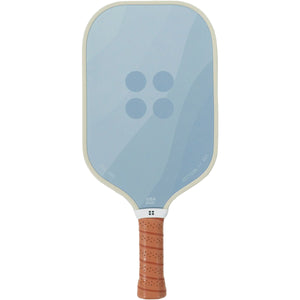 Overview
Anyone can compete. Only a few will win. The Mav Pro E paddle enhances attacking power, control finesse, and sharpens cutting spin with your game. 
The Mav Pro E is available in a 13mm and a 16mm to match your playing style. Our 16mm paddle focuses on ultimate touch & control, while our 13mm paddle focuses on ultimate power; giving you the paddle that best suites your playing style.
As part of our Pro Series Line, The Mav Pro E was engineered specifically to elevate the interconnected power and control of your shots... for the win.
With an aesthetic design inspired by the dangerous Maverick waves of the legendary Northern California surf spot, the paddle face and white edge guard embody natural power - a subtle visual nod to how dangerous your game will become.
Specifications (Lightweight)
Length (in):  16.5
Width (in):  7.5
Thickness (mm):  13/16
Weight (oz): 8.0
Grip Length (in):  4.75