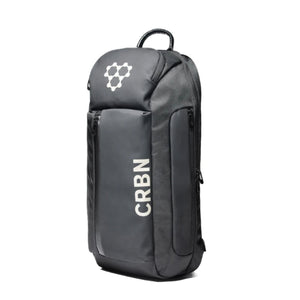 Wave goodbye to ugly, triangle-shaped sling bags.
Introducing the CRBN Pro Team Sling Bag, your ultimate companion for all your pickleball and outdoor adventures. With its thoughtfully crafted features and durable build, this sleek, multi-purpose sling bag is designed to meet the needs of both professional athletes and weekend warriors alike. 
Features:
Sleek, Multi-Purpose Design: The CRBN Pro Team Sling Bag boasts a modern and stylish design that perfectly complements any activity, even those outside of pickleball. Whether you're heading to the courts, the gym, or exploring the great outdoors, this bag is the perfect companion.

Ample Storage: Stay organized with plenty of pockets to fit your essentials. The spacious interior allows you to carry multiple paddles, a couple of balls, personal belongings, and more. Keep your gear secure and easily accessible, so you can focus on the game. For travel, it conveniently fits up to a 14-inch Macbook laptop.

Dedicated Thermal-Lined Main Compartment: The bag's main compartment is equipped with a thermal lining, providing a safe and cool space to store your paddles. Say goodbye to damaged, overheated paddles and hello to top-notch performance on the court.

Water-Resistant Outer Shell: Don't let unpredictable weather ruin your day. The CRBN Pro Team Sling Bag comes with a water-resistant outer shell, keeping your belongings safe and dry in light rain or accidental spills.

Expandable Side Pockets: Stay hydrated during intense games and workouts. The CRBN Pro Team Sling Bag features thermal-lined expandable side pockets, allowing you to keep your favorite beverage cool on one side, while keeping balls temperature controlled on the other.

Discrete Fence Hook: Our coated metal fence hook allows you to keep your bag off the ground while your playing, and when you're done, simply tuck it away back into it's pouch.

Adjustable Sling Orientation: Designed for your comfort, our sling bag includes clips on both sides, giving you the flexibility to choose which shoulder to carry it on. No matter your preference, this bag will adapt to your needs.

Durable YKK Zippers:

 

We understand the importance of reliable zippers. That's why our sling bag is equipped with top-of-the-line YKK zippers, ensuring smooth and secure opening and closing of compartments.
Whether you're a professional player or just picking up the game, the CRBN Pro Team Sling Bag is your reliable partner for every adventure.
Dimensions: 20x11x2 in.
Net Weight: 1lb 15oz