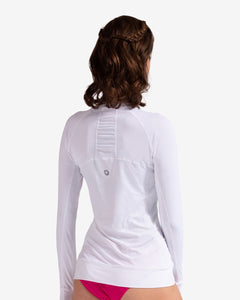 BloqUV Sun Shirts for Women are available in a variety of styles ranging from Crop, Collared, Pullover, Turtleneck, Full-Zip, 3 Quarter Mock Zip, Hoodie, and Crew styles guaranteed to provide UPF 50+.
All feature flat-lock seams for style, durability and comfort. The long sleeves cover the hands and feature thumb holes.
Cool, moisture-wicking and quick-dry, they're ideal for golf, tennis, boating, swimming, fishing, paddle boarding, running, walking and just looking sharp as you run errands. Excellent base layers for winter and skiing/snow boarding.