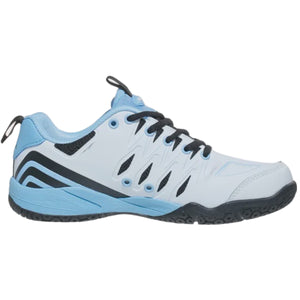 Signature shoe of pro pickleball player Corrine Carr, the Acacia Pro Signature Corrine Edition Pickleball Shoe was designed with the needs of a champion in mind. As Acacia's most agile pickleball shoe to date, this pro signature shoe is ready for the competitive player who is looking to maximize on comfort and speed. The upper features ProFlex material that provides the shoe with a flexible, comfortable support structure while Micro-honeycomb mesh keeps the shoe breathable and adds ventilation above the toes. A ProSole anti-bacterial insole provides shock absorption with the water-resistant ARK-Technology EVA foam midsole providing elevation and structure. PROgrip tread on the outsole extends around the contour of the shoe to provide traction, comfort and support on lateral movements.
Upper:

 

ProFlex material, an elasto-polymer fiber membrane that frames the shoe with a flexible, comfortable support structure. MicroHC mesh for improved airflow and ventilation. Durable ballistic nylon inner lining.

Midsole:

 

Water resistant ARK-Technology EVA foam provides elevation and structure. ProSole antibacterial insole features silicone honeycomb-gel with shock absorption. 


Outsole:

 

Non-marking anti-wear natural rubber with elevated heels increases leverage, control and balance.