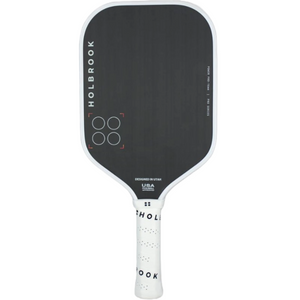 Overview
The Holbrook Power Pro paddle permits extreme power and spin while keeping a controlled touch. This paddle delivers enhanced performance for elite players. 
The Power Pro comes in 12mm, 14mm, and 16mm sizes. With the 16mm paddle you experience greater touch & control while still maintaining power. The thinner 12mm & 14mm paddles bring additional power, giving you the paddle that best suits your playing style.
As part of Holbrook's Pro Series Line, the Power Pro was engineered with revolutionary technology to amplify the power, spin, and controlled touch to your shots for next level performance.
Specifications
Length (in):  16.5
Width (in):  7.5
Thickness (mm):  12/14/16
Weight (oz): 7.7-8.0
Grip Length (in):  5.5