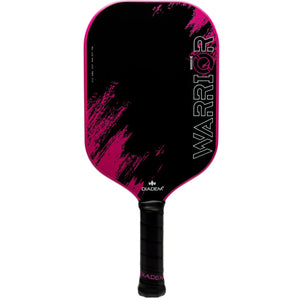 The Warrior v2 is the ultimate paddle for players looking to dominate the court with power, control, balance, and spin production. Featuring an etched raw carbon T700 face, this paddle is designed to deliver maximum performance, spin, and precision in every shot you make. 
Combining multiple technologies developed by Diadem Sports and seen previously in the DIADEM WARRIOR EDGE, VICE and ICON V2, the DIADEM WARRIOR V2 is our most advanced pickleball paddle to date. The 19 mm thickness and 3X L-Core enable a player to feel the ball better on dinks while still generating power on hard hits. The Taper Tech molded handle allows the Warrior V2 to have a comfortable feel and slim 4 1/8th grip size. 
Weighing in slightly lighter than its predecessor at 8.25 oz., the Warrior v2 also features Liquid Carbon Fiber (LCF) in the edges that provide unparalleled durability and protection, ensuring that your paddle will last through countless games and hits. With its edgeless design, included with every paddle purchase, you will receive one piece of Paddle Armor, providing you with ultimate protection against daily scrapes and wear. The Warrior V2 uses the highest quality carbon fiber, Polypropylene honeycomb, and includes the Aramid honeycomb for power. With the addition of our Etched Carbon Fiber face, power meets control and the Warrior V2 becomes the most complete paddle on the market allowing you to take your game to the next level.
USAPA Approved