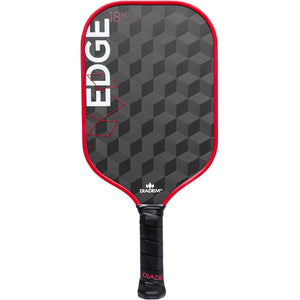 ntroducing the pinnacle of pickleball paddle innovation - the Diadem Edge 18k Paddle. Crafted with unparalleled precision and cutting-edge technology, this paddle is designed to elevate your game to new heights.

The preeminent technology of the Edge 18k paddle features its revolutionary new surface material. Utilizing state-of-the-art 3D 18k carbon fiber, this paddle uses the unique triaxial weave, incorporating three interwoven yarns at 60-degree angles, setting the stage for an unrivaled playing experience. Unlike traditional unidirectional raw carbon fiber paddles, the Diadem Edge 18k paddle's advanced construction amplifies spin potential at every angle of contact, giving you a competitive edge that's simply unmatched - no matter what shot you hit.

Experience next level control as you wield the Diadem Edge 18k paddle. Its 8.0oz weight and 16mm profile is designed for maneuverability, ensuring that your shots are executed with finesse and precision. The Edge 18k paddle effortlessly complements your playing style, empowering you to dominate the court with swift and calculated movements.

The Edge 18k also introduces the new Edge Shield Pro edge guard. This edge guard enhances the paddle's durability without sacrificing its sleek aesthetics. The extra lip of high density plastic on the corners gives you protection from the ground and paddle scrapes for longer-lasting durability.

Prepare to amaze opponents and spectators alike with unique 3D optics on Diadem Edge 18k Pickleball Paddle. Whether you're a seasoned player or just starting your pickleball journey, this paddle offers the ultimate blend of control and spin. Every shot becomes a masterpiece, every rally a testament to your skill and determination.

Separate yourself from your opponents with the only 3D-18k carbon fiber paddle face. The Diadem Edge 18K can be described by one simple word - better.  
USAPA Approved