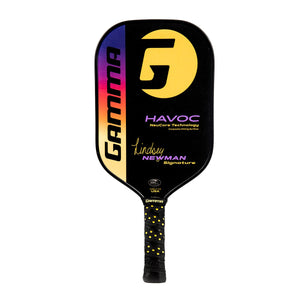 Details
Stir up chaos on the courts with the Lindsey Newman Signature Havoc Pickleball Paddle. The Havoc is a midweight paddle featuring NeuCore technology and an extended handle, perfect for mastering two-handed backhands. The composite face enhances your play with explosive power, consistency, and spin. With these features, the Havoc paddle slices through the air with ease and packs one powerful punch. A perfect paddle designed to meet the needs of players, and give them the superior torque and power to create havoc on the courts. 
This paddle is fitted with GAMMA's best-selling Honeycomb Cushion Grip, providing a high level of non-slip tackiness and comfort in your hand.
Discover the difference in your power & play with the Signature Newman Paddles. 
Specs:
Avg. Weight: 8 oz.
Core Material: NeuCore Polypropylene
Paddle Surface: Textured Composite
Paddle Length: 16-3/8"
Paddle Width: 7-3/8"
Handle Length: 5-1/4"
Grip Size: 4-1/8"
Grip: GAMMA Honeycomb
About Lindsey Newman:
Lindsey Newman has been playing pickleball for four years. Lindsey played her first tournament at the 5.0 level and won gold! Since then, she's only been playing in the 5.0 and pro divisions. Lindsey was seen taking home the gold at the 2021 National Championships using her Signature Havoc Paddle