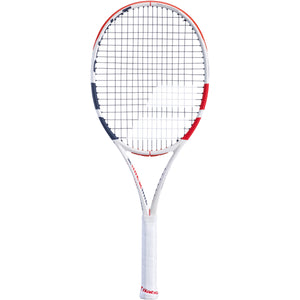 DESCRIPTION
Nothing compares to the pleasure of hitting the exact spot you were aiming for. Feel all the precision of the Pure Strike racquet when you hit the ball with strength and confidence, take the game in hand and keep up pressure on your adversary. With a 665 cm² (103 in²) head, this new Pure Strike offers a real alternative if you're looking for control while maintaining a certain amount of tolerance on each of your strokes.
Team BABOLAT pro players may play with a customized or different model than the equipment depicted.
BENEFITS
PRECISE CONTROL
Do you like to hit balls early and take risks up close to the net as soon as the opportunity arises, or stay at the back of the court on the lookout for an ace? We've designed the 3rd generation Pure Strike racquet especially for you. Thanks to the heightened responsiveness of its frame, you'll be able to take control
SENSATION
You need absolute confidence in your racquet to play your own tennis. You need a stable racquet to catch balls early, but one that also gives you a good feel of the ball for perfect sensations. That's exactly how we designed this new Pure Strike racquet, with new technologies to give that little extra
TOLERANCE
Are you a versatile player who plays the ball soon after the bounce, coming up close to the net at the first opportunity to win the point? We've designed this version of the Pure Strike with a larger head to give you extra tolerance.
TECHNICAL CHARACTERISTICS