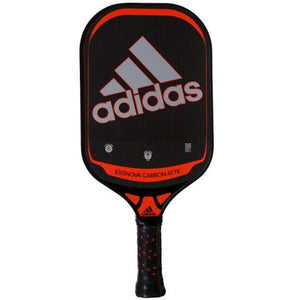 The adidas ESSNOVA paddles combine a high quality "Carbon 3k" face material, with a low-density 14.28mm (0.56") thick poly honeycomb core. The CARBON ATTK (pronounced "attack") marries those control-oriented elements with a power-oriented elongated shape to create a well-balanced paddle with good reach. Take advantage of the long paddle face to put some extra zing in your passing shots. Add the familiar adidas three stripes and you have a paddle that looks as good as it plays.

A more control-oriented version of the ADIPOWER ATTK, the ESSNOVA ATTK features a moderately-elongated shape which measures 16-1/2" long, by 7-1/2" wide. It is a mid-weight paddle, arriving between 7.7 and 8.2 oz. The handle is a standard 4-3/4" in length, with a small'ish 4-1/8" circumference.

Whether you play singles or an attacking-style doubles, this paddle will give you a little extra on your ground strokes while being consistent and controllable on your dinks. The ESSNOVA CARBON ATTK Pickleball Paddle by adidas is designed for intermediate-to-advanced levels of play.