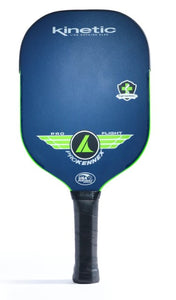 State of the art Toray T700 Carbon Fiber Pickleball paddle with perfect blend of power and control.
Proprietary Kinetic technology eliminates harmful shock and vibration thus reducing soreness and fatigue in the wrist, elbow and shoulder and minimizing risk of injury to the arm.
New Cloud Core technology reduces the paddle's weight due to wider spacing in the honeycomb design adding power and strength to your swings.
Proprietary Diamond Frost micro texture coating allows for maximum grit exposure upon ball contact for optimal spin.
Original Air-O-Guard system provides a fully replaceable edge guard, allowing easy replacement if scuffed ensuring decade long use of the paddle.
Developed in partnership with US OPEN and USAPA Nationals Pickleball Champions and Gold Medalists Jennifer Dawson and Steve Dawson.
Weight: 7.3 - 7.6 OZ *Exact weight cannot be chosen - read more here: FAQ *
Grip Style: Comfort Cushion
Grip Circumference: 4"
Handle Length: 4 7/8" 
Paddle Length: 15.43"
Paddle Width: 7.6" 
Paddle Face: Carbon with diamond frost face.
Paddle Frame: Kinetic System Technology with Carbon Casing
Core Material: Cloud Cell poly core
Edge Guard: Replaceable Air-O-Guard