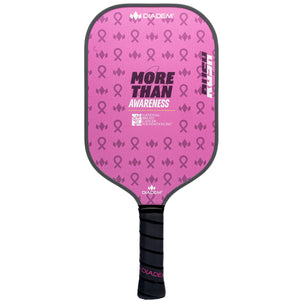 Overview
The Rush - National Breast Cancer Foundation Special Edition Paddle - a fusion of quality, style, and compassion in the world of pickleball. Crafted with precision, this paddle is your ticket to a phenomenal playing experience, all while contributing to a noble cause.
Constructed with a 16mm fiberglass face, the Rush NBCF Partnership Paddle, also known as the 'Play for Pink' paddle, boasts a unique rough texture that not only enhances grip but also delivers superior control and touch on the court. Whether you're speeding up, resetting or executing a delicate dink, this paddle is designed to elevate your game to the next level.
What sets this paddle apart is its incredible value. You can enjoy the quality and performance usually associated with high-end paddles, all for under $100. We believe that great gear should be accessible to all players, and the Rush NBCF Special Edition Paddle exemplifies that philosophy.
But this paddle is more than just an exceptional sports accessory; it's a symbol of support and solidarity. In a special partnership with the National Breast Cancer Foundation (NBCF), this paddle features the iconic pink ribbon, a powerful emblem of hope and resilience. The beautiful pink design further reinforces the message of unity in the fight against breast cancer.
What makes this partnership even more remarkable is that a portion of the proceeds from each Rush NBCF Partnership Paddle sold is donated back to the NBCF. By choosing this paddle, you're not only improving your game but also contributing to the awareness and support of those who have been affected by breast cancer.
Join us in making a difference on and off the pickleball court with the Rush NBCF Partnership Paddle. Play with pride, knowing that your purchase goes beyond the game, making a meaningful impact in the lives of others. Order yours today and be a part of this incredible initiative!
Specifications
Length (in):  16.4
Width (in):  7.5
Thickness (mm):  16
Weight (oz): 7.9
Grip Length (in):  5.4